What Is the Subaru Legacy Maintenance Schedule?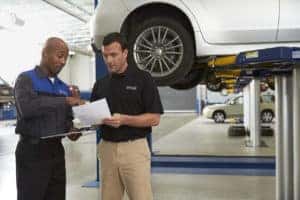 Like all Subaru vehicles, the Subaru Legacy has established a reputation for being reliable, safe, and trustworthy, meaning that it'll stay on the road for years to come. To make sure your new car is in tip-top shape, it's important to follow the Subaru Legacy maintenance schedule, which indicates at what intervals to get check-ups, oil changes, and other maintenance tasks performed.
3,000 Mile Check-up
You should begin getting regular checkups for your Subaru Legacy starting at the 3,000-mile mark. Have your oil and oil filter both changed, and make sure your new oil filter is a genuine Subaru replacement. During your checkup, have your car inspected and your tire pressure checked.
7,500 Mile Check-up
At 7,500 miles, have your oil checked and filter replaced again. Have your tires rotated so they are evenly worn, and have all hoses, lights, and belts checked. Catching any problems at this stage can prevent them from causing more harm later.
15,000 Mile Check-up
At 15,000 miles, repeat the same inspection and maintenance you performed at the 3,000-mile mark. That means changing your oil and oil filter and having your vehicle inspected. That inspection should also include an emissions check.
30,000 Mile Check-up
At 30,000 miles, you'll need to have your vehicle inspected even more thoroughly. That means checking brake pads and rotors, brake fluid, and brake lines, as well as testing the parking brake. Have the fuel line inspected, as well as the suspension and steering. Finally, have the PVC valve and engine coolant replaced.
Continue this cycle of service throughout your Subaru's lifespan to drive with confidence. Make sure your dealership uses genuine Subaru parts, as we do here at Serra Subaru Champaign, to keep your new car on the road for years to come.