Off-Roading on a Budget: The 2021 Subaru Outback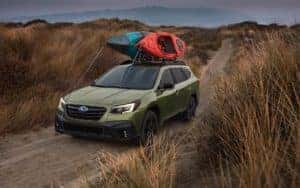 While many drivers think about gas mileage and creature comforts on long drives when considering buying a car, others think about limited-slip differentials and tire sizes. If you're part of the latter category, you're probably a big fan of off-road driving, and want a vehicle that can accommodate.
Fortunately, Serra Subaru Champaign has plenty of pre-owned SUVs that fit the bill. Here, we're exploring one of our favorites: the 2021 Subaru Outback.
2021 Subaru Outback – Trim Levels
The 2021 model year of the Subaru Outback benefits from a full redesign the year prior, with just a few tweaks to perfect the 2021 edition. Six trim levels are available to choose from, including a Wilderness package that adds additional off-road equipment. The trim levels are as follows:
Base
Premium
Limited
Onyx Edition XT
Wilderness
Touring
The Wilderness model is the best choice for off-roading. Its rugged styling, extra ground clearance, and more all make it a great candidate for those who want to go a bit further off the beaten path. All-terrain wheels give you added security in rougher areas, and extras such as LED fog lights ensure you'll have optimal visibility even if you're far from the nearest streetlamp.
2021 Subaru Outback – Powertrain and More
Two four-cylinder engines are on offer for this Subaru Outback model: a 2.5-liter that makes 182 horsepower comes standard, with an optional 260-horsepower turbocharged 2.4-liter engine available for upgrade. The latter adds improved acceleration and 800 extra pounds of tow capacity, bringing its limit to 3,500 pounds. All-wheel drive is standard for every model, a staple for the Subaru brand.
If you're interested in learning more about pre-owned Subaru SUVs, visit our Illinois Subaru dealership today. Our staff would be more than happy to walk you through what's available on our lot.