Go Off the Beaten Path with the 2023 Subaru Crosstrek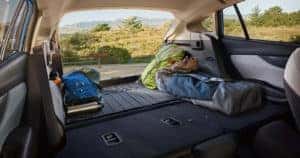 As desire for capable outdoor vehicles grows along with a preference for compact vehicles that are more fuel-efficient, it's no surprise the 2023 Subaru Crosstrek has been gaining in popularity. Its ultra-compact size means it almost drives like a car on the road, but don't be fooled—this little SUV packs a punch when it comes to off-road terrain.
Here's a look at the new model year from Serra Subaru Champaign, as well as some of the Subaru Crosstrek SUV's best all-terrain features.
2023 Subaru Crosstrek Overview
The new Subaru Crosstrek offers six different choices of trim level, as well as three different powertrains: the base 152-horsepower four-cylinder engine, a plug-in hybrid model, and a two 2.5-liter engine that makes 182 horses. A six-speed manual transmission is standard but can be upgraded to a continuously variable automatic transmission.
Off-Road Highlights
While the 2023 Subaru Crosstrek may not have the full size of other common off-road SUVs, it has many features that allow it to perform well off the beaten path. As with nearly all Subaru vehicles, all-wheel drive is standard, a difficult element to find for the compact body style. Its spacious ground clearance also allows it to tackle a wide variety of bumpy terrain.
Crosstrek Sport Trim Features
For drivers who want the max in off-road capability, the Sport trim is the best choice for you. While its flashy features such as the unique wheel design, faux carbon-fiber trim, and yellow-stitched upholstery make it appealing to the eye, its larger wheel size and advanced driving modes make it a formidable contender for all-terrain driving. It also features the more powerful engine system to give you an extra push off the roads.
Ready to see for yourself how well the 2023 Subaru Crosstrek handles the great outdoors? Visit our Subaru dealership in Champaign, IL today to learn more.