2023 Subaru Models: Our Top Picks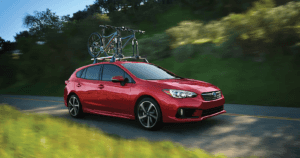 Subaru cars have long been a popular choice for practical, effective vehicles that provide comfort on the road, and capability off of it. There are many reasons why drivers choose a new Subaru car: they're affordable for the quality of vehicle, their all-weather performance is invaluable, and their fuel efficiency sets them apart from other SUVs.
Here are three models at Serra Subaru Champaign you shouldn't miss out on in 2023.
2023 Subaru Outback
The uniquely recognizable exterior shape of the new Subaru Outback is one if its hallmarks, with a practical station wagon body that effortlessly blends in with SUVs, even on tougher terrain. This midsize SUV features no less than eight trim levels to choose from, offering plenty of options for personalization for any driver.
2023 Subaru Crosstrek
This subcompact SUV is gaining in popularity due to its versatility—its ability to drive and act like a car while retaining the extra space and utility of an SUV sets the Subaru Crosstrek apart. This makes it convenient for typical on-road driving, as well as capable off-road.
2023 Subaru Impreza
If you're looking for something that's actually classified as a car, look no further than the new Subaru Impreza. This compact car is available as either a sedan or a hatchback, but either body style offers a spunky driving experience for the driver, thanks in part to Subaru's standard all-wheel drive on nearly all models.
Whether you're looking for a rugged SUV to take on the trails or a zippy sedan for your morning commute, our Illinois Subaru dealership is sure to have what you need. Stop by today to learn more about these fantastic new models, or call us to schedule a test drive.