2022 Subaru Outback vs. 2023: What's New?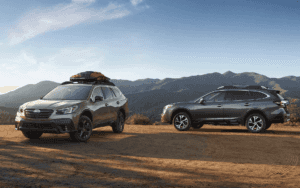 The Subaru Outback has long been one of the most popular models for the brand, and it's easy to see why. The part-hatchback, part-crossover hybrid is a fan favorite for many reasons, and the newest model year is no exception. Let's see how it stacks up against last year's model, the 2022 Subaru Outback.
Stylish Exterior Updates
Changes in the new model year for the Subaru Outback are largely cosmetic. The exterior styling of the vehicle has been updated, particularly on the front end. A larger grille, newly redesigned LED headlights, and black body cladding have all been added to the 2023 model year. Protective accents around the wheel arches add extra flair to the Outback wagon's outward appearance.
Enhanced Technology
Not all changes for 2023 are to the design, though. The Subaru Outback also sees some upgrades in its tech and functionalities. The forward-facing camera has been improved with a wider view, as well as the image-recognition software that's part of Subaru's EyeSight safety system. The optional blind-spot monitoring system adds an automatic emergency steering feature.
Subaru Outback Trim Levels
While both model years of the Subaru Outback mostly remain the same in terms of basic configurations, there is one small change in the eight available trim levels. The Onyx Edition now allows for a choice between both engine options, where for 2022 it was only available with the XT/turbocharged engine.
Base
Premium
Limited
Onyx Edition + Onyx Edition XT
Wilderness
Touring
Limited XT
Touring XT
The powertrain options themselves are the same for 2022 and 2023. Two four-cylinder engines are on offer for both model years: a standard 2.5-liter that makes 182 horsepower, and an optional turbocharged 2.4-liter that knocks out 260 horsepower.
To learn more about the differences between the 2023 and 2022 Subaru Outback models, visit our Illinois Subaru dealership, where our friendly associates can give you firsthand knowledge on this popular wagon.