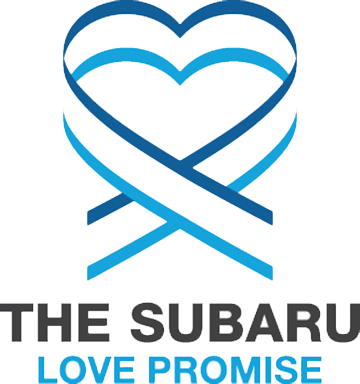 What is the Subaru Love Promise?
Subaru and our retailers believe in making the world a better place and the Subaru Love Promise is our vision of respecting all people. This is our commitment to show love and respect to our customers and to work to make a positive impact in the world.
How is Serra Subaru Champaign dedicated locally to the Love Promise?
We believe in making the world a better place and the Subaru Love Promise is our vision of respecting all people.
Champaign County Humane Society
Restoration Urban Ministries
Love Promise Stories from Serra Subaru Champaign
Subaru and Serra Subaru Champaign believe in making a positive impact on the communities in which we live and work. We uphold that belief through our Love Promise Community Commitment. Every month, we select inspiring stories from customers and partners from around our area who strive to support our collective commitment and feature them here
AN EXPERIENCE OF A LIFETIME - Ben Q
Just recently, Serra Subaru Champaign acquired tickets for the 2021 NCAA Men's College Basketball Final Four Championship weekend. We had four tickets for Saturday, both games and four tickets for Monday nights championship game. The seats were exceptional, in the lower level 100, as close to the action as one could reasonably get. Being Easter weekend, I told my son that we had tickets and that we were going to have a fun weekend with his brother and my wife. He recalled how years ago he and I had attended the Final Four as someone had given us tickets, and what a special experience it was. He also reminded me that it wasn't just about watching the basketball game live, but also about all the drama around the game, the hype of the weekend, the excitement in and around the venue and all the famous people we "rubbed elbows" with. He reminded me that, for our own reasons, we really needed a break when we we're given those tickets. He talked about how it changed our whole mood and how he always remembers how it made him feel. That's when I knew we would give the tickets away. I knew that our team at Serra Subaru Champaign would support the idea of giving the tickets away rather than selling them or using them ourselves. That's how we got the idea to provide the experience of a lifetime for someone else. Someone in the community—maybe some kids who never had a chance like this in the past not in the foreseeable future. Someone with the deck stacked against them, or seemingly so. Someone having a tough time and just needing a "lift". I reached out to Steve Khachaturian, (Stevie Jay), who is a friend an owner of a local radio station. Stevie is very involved in the community with many groups who focus on young people and providing them with positive leadership. I knew Steve would know of the right folks who would be excited to go. He introduced me to Willie Comer and Kent Hollis who organize, fund, and facilitate the Youth for Christ Midnight Basketball program in Champaign. This is a very large group of young kids, impoverished and at risk due to socio economic circumstances, with little or no parental support. These kids, like many I have been involved with before, have a little or no positive role models, let alone extraordinary and positive experiences in their lives. I told Stevie that I wanted some kids who just "needed a break". Someone that we could really "wow". Both Willie and Kent each took three young boys in the program and one group went on Saturday to both games and the other group went Monday night for the championship game. My son and I went and met with Willie and then also with Kent and the three boys he took on Saturday. We gave both men and all of the boys an envelope with some spending cash and some prepaid credit cards for fuel and expenses. We gave each of the boys an envelope with a note and a $20 bill for spending money at the game, and a Dominos pizza gift card "...to be used one evening when you're up late studying!" The boys we met were so jazzed as they departed for the drive to Indianapolis for the game. Afterwards, Willie and Kent went on the Stevie Jay radio show and talked for a while about the game and the experience the boys had. They talked about their seats being so good and that Kenny Smith and Charles Barkley sat BEHIND them. I've been fortunate enough to have attended many sporting events including the "Final Four", but I will never experience the excitement I felt knowing that we created an experience of a lifetime for these kids who have seen and experienced horrors you only see in the movies. Our hope is that they will always be able to call upon the feeling of excitement, joy and satisfaction when they need hope for the future.
---
Free Microchipping Clinic - Earl S
Mobile Mutts Rescue Transports ( 501 (c) (3) ), based in Champaign, IL wanted to provide free pet Microchipping in our area, to do that we needed somewhere that had space available. After talking to other animal rescuers in the area, we were told that the Subaru dealer might be able to help us out. Fingers and paws crossed we contacted the dealership. What happened next was truly an act of Love that we never expected. Serra Subaru not only provided volunteers to help us but opened up their entire showroom for us to use and provided free "goodies" for the pets that were microchipped. With the Covid outbreak, we needed space to safely provide microchipping for area pets. With safety protocols in place, we were able to hold two successful free microchipping clinics. In total 94 pets received free microchips and registration thanks to Serra Subaru. We had volunteers from not only Mobile Mutts and Serra Subaru, but from the U of I College of Veterinary Medicine (chipping the pets). A whole community came together to help pet owners during the Covid outbreak and did it in a very safe environment for the community and volunteers. In rescue work, it's always about the animals, doing what is needed for them. It was very clear that Subaru has embraced the idea that "where there is a will, there is a way". We cannot thank Ben, Carleen and all the people at Serra Subaru enough for standing with Mobile Mutts and the entire rescue community for making it possible for animal lovers to now have a way to be reunited with their pets if they are ever lost. Going above and beyond is really an understatement when it comes to the support we received, because it wasn't just for us, it was for the community and the entire world of animal rescue. Subaru has set a high standard in the business industry, not just because of all they did for our organization, but the fact they made it clear they would be there to help us and other organizations when there is a need.
---