Subaru Battery Services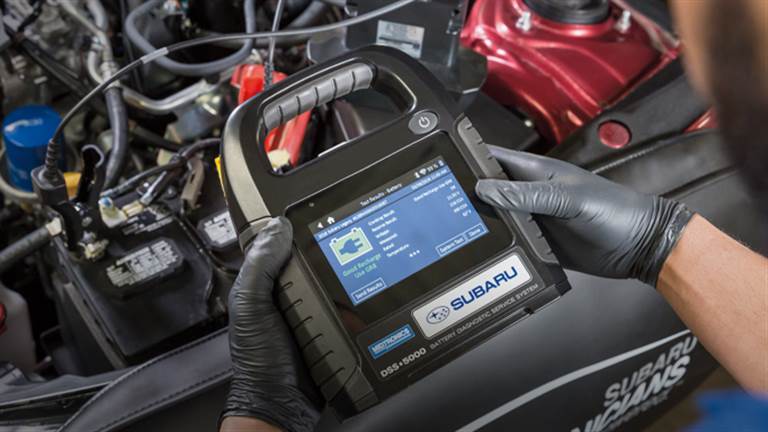 Battery Services at Serra Subaru Champaign Serving Savoy, Urbana, and St. Joseph, IL
You can rest assured knowing that the certified service technicians at Serra Subaru Champaign are here to help when you need Battery Services for your Subaru. Your Subaru battery is one of the most important elements of your vehicle! Without a healthy battery, your vehicle is unable to function properly. As a Subaru authorized service center, we are proud to provide our customers with extraordinary customer service and 100% genuine Subaru OEM parts and accessories. If you're in need of battery service or repair, the technicians at Serra Subaru Champaign are here to check all the boxes to ensure you are ready to hit the road again - safely!
Why Battery Health Is So Important
Aside from time, there are many other aspects that can play a role in the health of your Subaru battery. Contributing factors to a bad battery can include extreme weather conditions, driving habits, corrosion, battery age, a bad alternator, amongst other reasons. A dead battery can slow you down, but we're here to help! It is important to get your Subaru regularly maintained and checked, to ensure everything is okay under the hood. Getting ahead of battery issues before they escalate can help you avoid expensive services and having car issues while you are on the road.
What is a Battery Test?
Whether your battery is being tested during a scheduled battery service, or during a routine maintenance check, our certified technicians are using a precise, Subaru-specific battery tool to measure your battery charge. In addition to checking the battery, this tool also has the ability to ensure the starter and alternator are working properly. Our technicians will then report back to you with the status of your battery health. If you do need a new battery, there is no need to schedule an additional appointment! We carry 100% genuine Subaru OEM batteries and we'll install it while you're here!
Subaru Battery Service and Replacement at Serra Subaru of Champaign
If you would like to book a brake system service with one of our certified technicians, you can simply give us a call or schedule an appointment through our website. At our service center, we offer the convenience of a customer waiting area where you can wait comfortably while your vehicle is being serviced. We can't wait to show you what the Serra Exceptional Experience is all about and get you back on the road!